Warning! There have been reports of companies visiting Burbank homes, claiming to work with BWP, and asking to enter the homes to perform water testing. These companies are not affiliated with BWP and are not performing any services on behalf of BWP. Remember - BWP employees will always have a city badge ID, uniform, and city vehicle. These companies claim that after the water leaves the treatment plant, it travels through miles of pipes and by the time it makes it to your home, it no longer meets minimum government guidelines. This is false.

Water quality tests are taken from samples collected throughout Burbank's water distribution system. The amount of chlorine residual in the water is tested to ensure that microorganisms are inactivated and rendered harmless. Additionally, coliform bacteria samples are taken to ensure that certain harmful bacteria are not present. General physical samples are routinely collected on a weekly basis and analyzed for color, odor, and turbidity. Sample collection is conducted in accordance with a sampling site plan that is reviewed and approved by the Division of Drinking Water. Sample points are strategically located to provide a representative cross-section of the entire water system. All samples are collected by state-certified water plant operators who perform state-approved analytical methods in a state-certified accredited laboratory. These tests and the standardized procedures for taking the samples are performed in accordance with the Division of Drinking Water standards.

BWP is proud of our ongoing record of delivering high-quality water to Burbank's residents and businesses for over 100 years. Burbank's water not only meets but surpasses all state and federal drinking water standards. Over 25,000 water quality tests are conducted annually to check for 160 different chemicals and contaminants to ensure that Burbank's water is safe to drink. In addition, drinking water is highly regulated by US EPA and the California Water Resource Control Board Division of Drinking Water (CASWRCB-DDW). For more information on water quality, view Burbank's latest Annual Water Quality Report.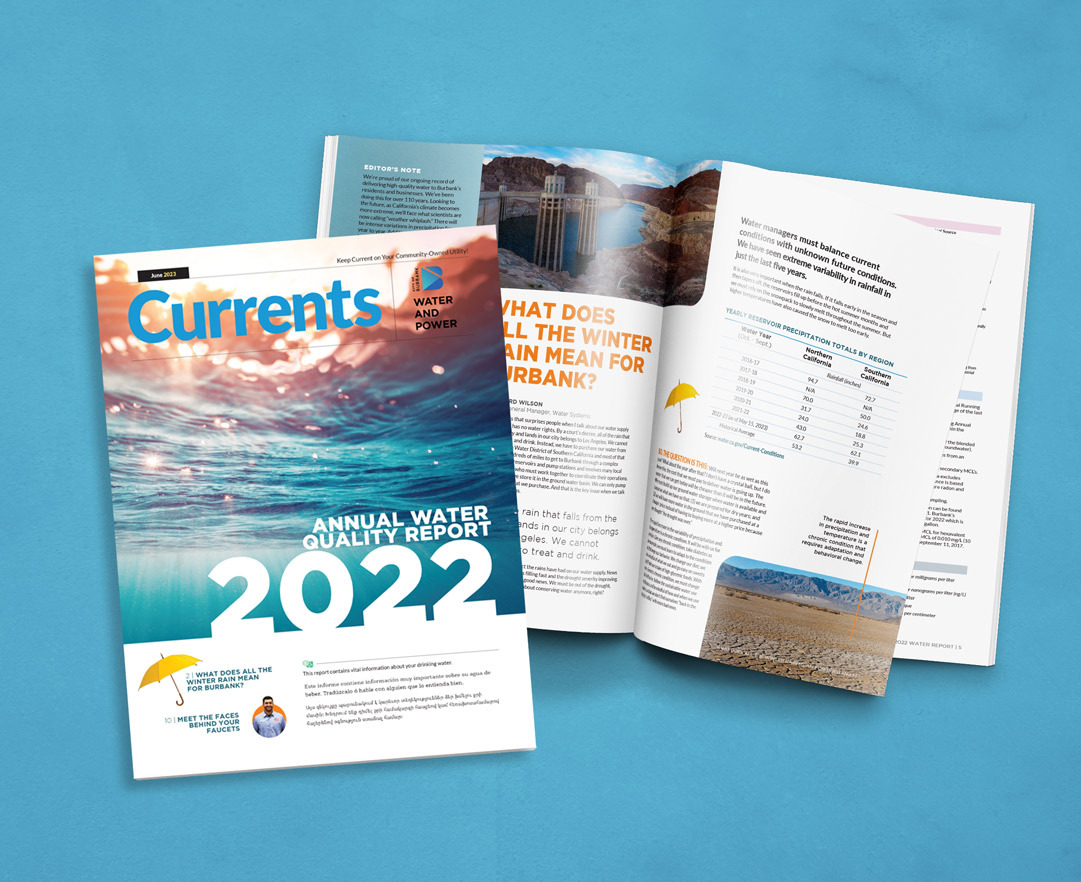 Water Quality Reports
BWP is dedicated to providing clean, high quality water services to our community. View Burbank's latest Annual Water Quality Report to learn more.
2022 Water Quality Report >
View previous water quality reports
See how BWP has continued to provide safe, high quality water to the City of Burbank for over 100 years.
Groundwater Treatment
BWP buys untreated water from MWD. The water comes from the San Francisco Bay Delta in Northern California and the Colorado River. We spread the water on the ground (at the Pacoima and Lopez spreading grounds), where it percolates into the San Fernando Ground Water Basin. However, portions of the groundwater basin are contaminated from activities related to the former Lockheed Corporation's aircraft manufacturing plant in Burbank. The EPA designated the basin as a Superfund site in 1986 and ordered Lockheed to construct the Burbank Operable Unit treatment plant (BOU). BWP runs the BOU, which became operational in 1996.

When we need the groundwater, we pump it out of the ground and treat it at the BOU. It is a facility that is highly regulated by the EPA, and we work closely with them, the State's Division of Drinking Water, and Lockheed-Martin, to ensure that the BOU cleans up the groundwater basin and provides drinking water that meets or exceeds all mandated drinking water standards.

View the Groundwater Report >