Time-of-Use For EV Owners
BWP promotes and incentivizes Level 2 charging at the optimal time for the grid.
When you charge your EV between 11 PM and 8 AM (off-peak), you help maintain low electricity rates and contribute to cleaner air.
What You Need to Know
As you add EV charging to your household, your electricity usage will increase and your electricity bill may follow. However, your overall energy costs (electricity and gasoline) will likely decrease as you avoid trips to the gas station. Most EV drivers who charge at home will see immediate savings, especially when the cost of gasoline is high.
A time-of-use (TOU) rate provides the lowest energy cost available if you charge your vehicle after 11 PM. With a Level 2 charging station, your EV will be fully charged by the time you need it in the morning.
Your household energy costs may be higher between 8 AM and 11 PM, especially if you charge your EV during these hours.
Understanding Your Energy Costs
Electricity bills are primarily based on your electricity usage, measured in kilowatt-hour (kWh):
kWh volume x Rate = Cost of Energy
Your rate may vary based on your total monthly usage, time of day, and time of year, depending on your rate plan (it is not a single fixed number).
Residential Service
Most households receive service from BWP on our standard residential schedule. On this plan, the energy charge (per kWh) varies based on your total usage for the month.
The composite energy rate has two tiers. The first tier applies to your monthly usage under 300kWh. The second tier applies to your monthly usage in excess of 300kWh.
| | | |
| --- | --- | --- |
| | Tier 1 | Tier 2 |
| Composite energy rate | From 0 to 300kWh | Above 300kWh |
| | 13.42¢ per kWh | 20.06¢ per kWh |
Time of Use (TOU) Rate for Electric Vehicle (EV) Owners
With TOU, your usage is billed at a rate that varies based on the time of day and the season. This rate promotes shifting usage when renewables (sun, wind) are plentiful or when the overall demand for energy is lower.

Cost per kWh
Summer on-peak: $0.2903
Summer mid-peak: $0.1911
Summer off-peak: $0.1091
Winter mid-peak: $0.1911
Winter off-peak: $0.1091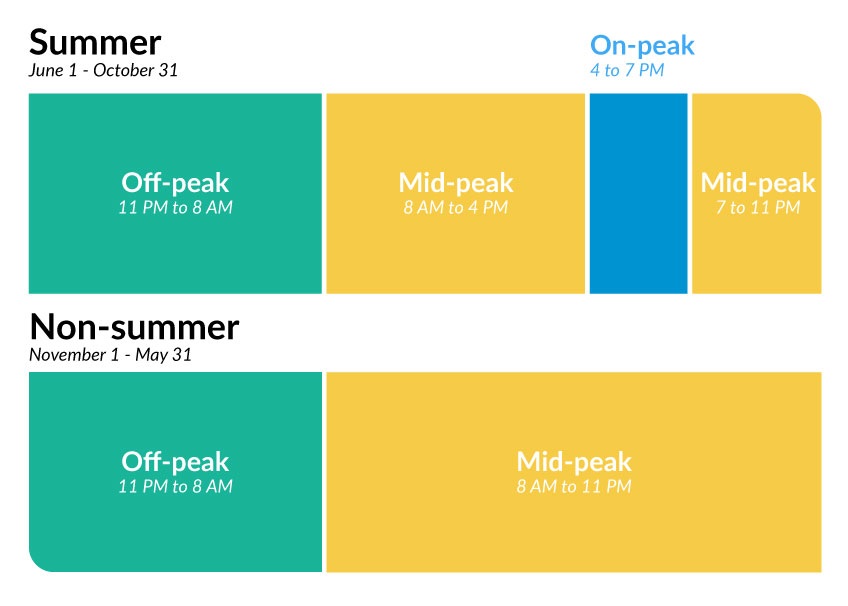 Why does the time of day and season influence the rates?
Utilities prioritize renewables and their most efficient plants when generating energy. Less efficient plants are used when demand is higher. These older plants may also have more impact on air quality. When you use electricity mid-peak or off-peak, you are getting cheaper power from the most efficient sources that also contribute to better air quality.
Why does it matter for EV charging?
Unless you work nightshifts, you probably have some flexibility when to charge your EV. Charging your EV between 11 PM and 8 AM on TOU while you sleep will give you access to the lowest cost of energy.
To qualify for the rebate, you must agree to be put on the TOU rate.