Proposed Rate Increases for the Fiscal Year 2023-24
As a not-for-profit community-owned utility, we set our rates to recover the cost of providing reliable water and electric services to our customers – nothing more.

The increase in rates reflects the rising cost of providing water and electric services and the need to create lasting transformations that make our energy and water infrastructure more reliable and sustainable moving forward.
BWP delivers an industry-leading 99.999% reliability while maintaining the lowest regional rates and meeting conservation and sustainability goals. No other utility in the region can say that.

Here's what we're proposing:

BWP takes changes to our rates and charges for our water and electric services very seriously. Adapting to climate change, managing unprecedented increased costs for resources like natural gas, potable water, and equipment, and maintaining Burbank's critical infrastructure are just some of the challenges that require BWP's rates to reflect the increasing costs of providing water and power to the City of Burbank.
In order to meet our community's largest challenges, it is necessary for BWP to propose an 8.5% increase in electric rates and a 9% increase in water rates beginning July 2023. Next year, on July 1, 2024, the proposed rate increases are 8% for electricity and 9% for water.
What does this mean for your bill?
The chart below shows the impact that the proposed Fiscal Year 2023-2024 rate increases would have on the average Burbank household.

There are five main reasons for these rate increases:
The cost of materials and goods have gone up, even more than usual. Everything BWP needs to reliably provide water and power service – from the copper we use for our water service lines to the transformers we need to safely power Burbank's homes, businesses and schools – costs a lot more than it used to.
Energy prices have never been more volatile. BWP gets some of its electricity from natural gas. This type of fuel can be expensive during the summer but is typically cheaper in the winter, which has helped BWP control costs in the past. The prices of natural gas have been changing a lot in the past two years. For example, the price of natural gas went up by 350% between December 1, 2022, and January 31, 2023. It has also become increasingly more expensive to source and deliver renewable energy as utilities throughout the country are competing for a limited supply of sustainable electricity.
Our aging infrastructure needs to be repaired. Many of the pipes that carry water throughout the City of Burbank are old. 29 miles of water pipeline in the City are 90-year-old cast iron pipes that have gotten brittle over time and will get more fragile as they continue to age. We need to replace these old pipes with new ones, or some of these pipes could break and cause interruptions to our water service.
Meeting regulatory requirements has gotten more expensive. The State of California requires that all service providers achieve greenhouse gas–free electric generation by 2045. This change will take time, effort, and a lot of planning if we are to continue providing reliable, affordable, and sustainable services. The goods and services needed we need to meet this goal have gotten more expensive, making it even harder to meet this requirement.
Adapting to climate change. The threat of climate change means that we can't provide our electric services the same way we have in the past. Between the changing energy technology landscape, and the fiscal and personal costs of climate change, transitioning to renewable energy sources has become the financially and environmentally smart thing to do for Burbank. BWP is driving towards a greenhouse gas-free power supply by 2040, five years earlier than mandated by the State of California.

Want to know more?
You can read about the complex issues that are contributing to proposed rate increases through BWP's "Ask An Expert" article series. You can find every article here.

Financial resources are available
BWP understands that this is a big increase, and we want to help.
BWP is doing our best to reduce costs wherever we can. We have managed to save a lot of money – more than $27 million – in the last year. We have taken a variety of steps to achieve this. For example, we ended a contract with a gas company that was no longer giving us the best deal. We also used our Intermountain Power Plant when prices for other types of power were too high, saving us $2.3M.
We're also taking advantage of every resource we can, such as state and federal grants, to make sure that people can still afford their water and electric bills.
You can read more about how inflation has affected BWP's costs, and the work BWP has done to reduce those costs for the BWP community, in our "Ask An Expert" op-ed from our Acting Chief Financial Officer.
As Burbank's community-owned utility, our customers are our first priority. BWP offers a suite of money-saving programs and resources to help all customers, regardless of income level. Visit our Rebates and Incentives webpage to discover ways you can save.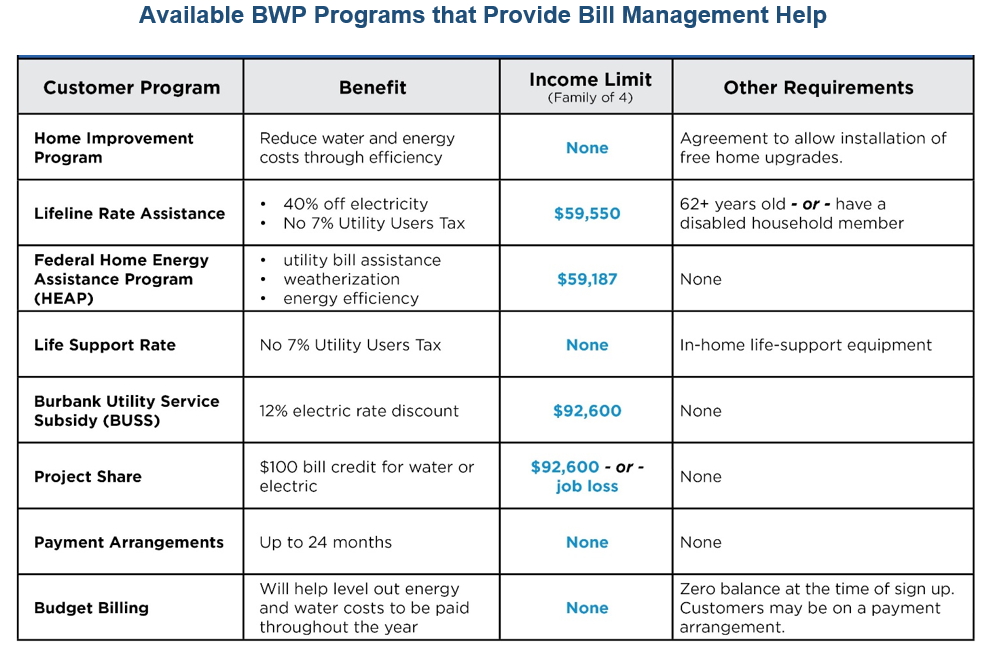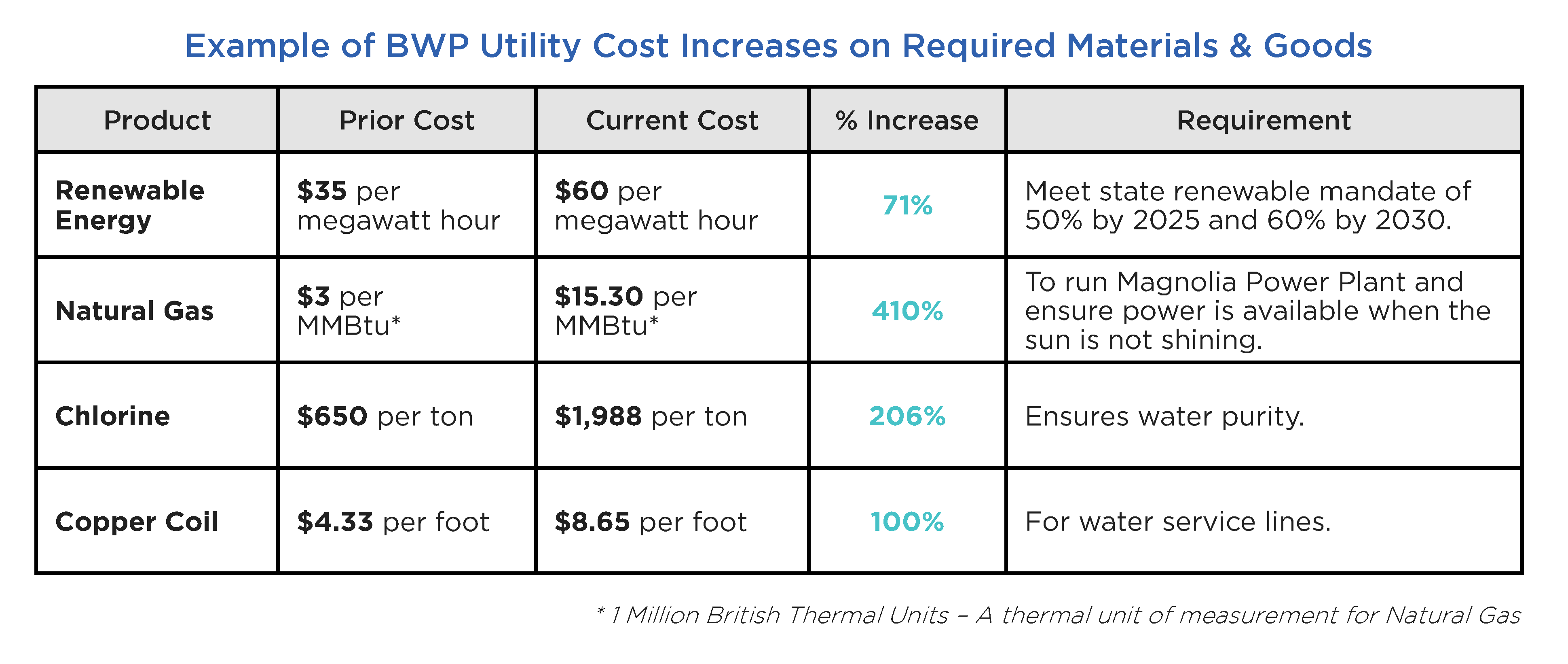 Public hearing
A public hearing will be held on June 6, 2023, at 6pm, at which the Burbank City Council will consider proposed increases for certain fees and charges for fiscal year 2023-2024 and 2024-2025. If approved, certain fees and charges for water, sewer, and refuse services will be increased effective July 1, 2023, and July 1, 2024.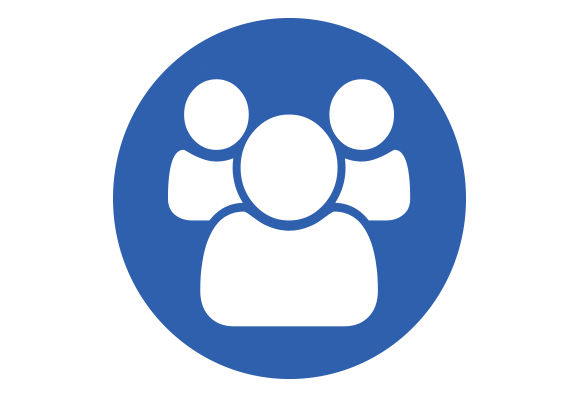 Attend in-person at Burbank City Hall at 275 E. Olive Ave., Burbank, CA 91502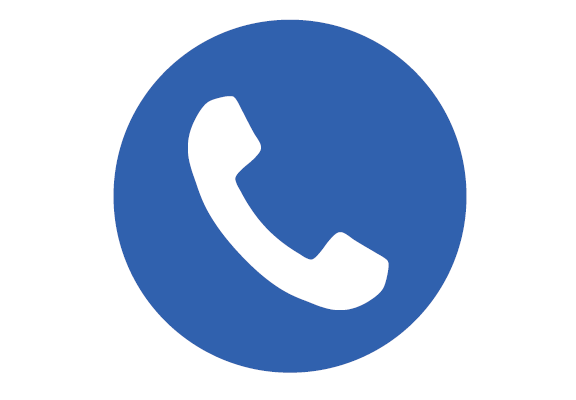 Call in directly to the meeting at (818) 238-3335
Note: Separately, the City is proposing an increase in sewer and refuse fees,
which are also needed to continue providing comprehensive City services.